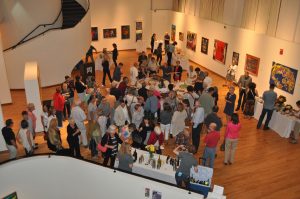 The 2017 Footcandle Film Festival will officially start with it's traditional Opening Night Short Film event on Friday, September 22nd, 2017!
The evening will begin at 6:30pm with a collection of eight (8) short film selections, all in competition for the "Best Short Film" award for the festival. These films are of varying length, style, and themes, and submitted by filmmakers around the world.
Afterwards, everyone is invited to an Opening Night Reception in the adjoining Hickory Museum of Art.  This will be an opportunity for attendees to meet some of the visiting filmmakers while enjoying some food and drink.
And for those daring souls that want to see some more interesting, unique, and possibly bizarre short films, the "Night Gallery" collection of late-night short films will be presented after the reception (approximately 9:30pm).
The ticket price of $15.00 includes your admission to the entire night of events, including both sets of films and the reception in-between.
(Please note: the later "Night Gallery" portion of the evening is intended for mature audiences only.)
Tickets will go on sale to the general public for this event – and all other film festival screenings – on July 31st, 2017!
Visit www.footcandlefilmfestival.com for all festival information, a list of this year's films, the festival schedule, and more.